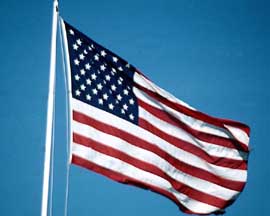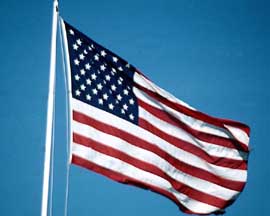 God Bless America! This is an exercise of MY FREEDOM of SPEECH! Those who would disagree are free to go disagree somewhere else.
The Conservative Country Voice
CCV News and Commentary


Post USA Election open letter to the world!
By Alan Ruffer

The following Editorial is the opinion of the CCV EDITOR.

&nbsp An open letter to the WORLD after the 2004 USA Election,


Citizens of the WORLDS countrys:
The AMERICANS WHO OVERWHELMINGLY VOTED FOR PRESIDENT Bush, REPRESENT THE
MAJORITY of GOOD MORAL PEOPLE in OUR COUNTRY. WE Americans ARE URGING
PRESIDENT BUSH TO DESTROY TERRORISM AT ITS ROOTS. We are also urging him
to WORK JUST AS HARD TO UNITE THE WORLD. WE ARE ONE WORLD. PEOPLE I HAVE
MET IN MY TRAVELS ARE ONE PEOPLE. THE MAJORITY EVERYWHERE are GOOD PEOPLE.


&nbsp To the UK DAILY MIRROR:
FROM the 59,054,087 Very Intelligent Americans who voted for bush: Do the
WORLD a favor and shutdown your attempt at GARBAGE, yellow Journalism.
Maybe your Editor(s) can get a job as DOG CATCHER in the UK, although the
qualifications for that job are above their level of expertise.


&nbsp For the USA Democratic party:
Your party is finished. Democrats TIME
has come and gone in this Country. You had no platform in '04. Mud slinging
no matter how polite, will not get a man elected to President.
A woman will never be elected to the Presidency of the United States,
especially Hillary. The best thing for all of you Democrats to do is
change partys, or move to France or China where there are many openings
in the Communist Party.


&nbsp For George Soros:
Suicide is the answer George, because 60 million Americans don't care what you think, or if you do!

&nbsp For Michael Moore:
You have alienated 60 million Americans who will no longer PAY to support your "questionable" ART. You have time to Join Soros in a suicide pact or move to France!

&nbsp For all the ACTORS, ACTRESSES, SINGERS:
That thought they should use their MONEY and popularity to try to force
THEIR views on average Americans - there are 60 million Americans who
will no longer PAY for movie tickets or their familys or buy your DVDs
or CDs! Your views don't mean S*** for Americans who have to work for
their money and are smarter than you are!


&nbsp For Osama Bin Laden:
AMERICA IS NOT AFRAID of YOU! Hide in your dank caves, but stay awake
and look over your shoulder because WE are coming to get you no matter how
long it takes, and wherever you HIDE!!!

&nbsp For Chirac in France,
People of the united states have not forgotten your ill words and actions
during the last few years. I continue to boycott French Products and companys.
I urge others to do so also. All France is amounts to a SuperPower
wanna-be.Apologize to the USA and its PEOPLE.


&nbsp For Senator John Carrey:
Nice try. Remember that 59,054,087 Americans were smart enough to see
through your duplicity. Your conceding the election on Nov. 3 was the only
good thing you have EVER done for America. You were the WRONG man,
the WRONG Party, at the WRONG time. You should now consider resigning
from the Senate if you really are an American Patriot.

&nbsp For President Bush, and VP Cheney:
Mr. President congratulations!!! We Americans as leaders in the Free World
must now ENHANCE and continue our fight against Terrorism, and WORK with the
other FREE nations to UNITE the world. Our Prayers are with YOU both!
GOD BLESS AMERICA.


&nbsp To CBS "news":
Your CEO should consider renaming your network to a more "politically"
correct LOGO. I suggest DBS – Democratic Broadcasting System –
because you have lost 60,000,000 viewers including my family through your
biased MISUSE of the TV spectrum. Your credibility as a NETWORK is GONE.


&nbsp To Vladimir Putin and Our RUSSIAN and BeloRussian FRIENDS and ALLIES:
President Putin, Thanks for your support and Russia's friendship during this
new century. I have been to your country (FSU)several times, and have come
away with admiration and positive feelings from my trips. America and
Russia will continue to work together with other nations and LEADERS to
UNITE the world. We as major Superpowers in the world must work together
to iron out any difficulties that arise, to DESTROY Terrorism and any
other threats to the FREE WORLD. To My Russian Friends from my '04 and '03
trips – I am looking forward to seeing you all in a few years again!


&nbsp
&nbsp All content on this page that is not "reprinted with permission" is
© 2004, Alan R. Ruffer All rights reserved.